Note from Paige: So, I've finally done it. I've decided to bring on my super awesome brother/minion as a reviewer here on the blog! His first review is below, and expect many more fantastic posts from him in the future 🙂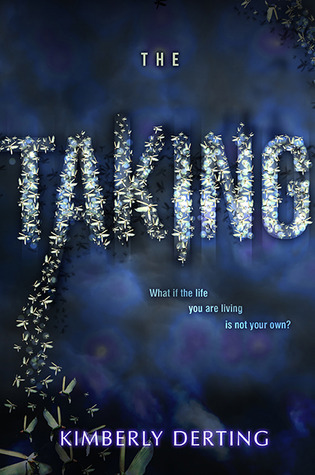 Add to Your Goodreads TBR List
About The Taking:
The last thing Kyra Agnew remembers is a flash of bright light. She awakes to discover that five whole years have passed. Everyone in her life has moved on—her parents divorced, her boyfriend is in college and dating her best friend—but Kyra's still the sixteen-year-old she was when she vanished. She finds herself drawn to Tyler, her boyfriend's kid brother, despite her best efforts to ignore her growing attraction. In order to find out the truth, the two of them decide to retrace her steps from that fateful night. They discover there are others who have been "taken," just like Kyra. Only, Kyra is the first person to have been returned past the forty-eight-hour taken mark. With a determined, secret government agency after her, Kyra desperately tries to find an explanation and reclaim the life she once had . . . but what if the life she wants back is not her own?
The Skinny(my review):
The Taking by Kimberly Derting starts with a small prologue right before Kyra is "taken" then you flash forward and she's waking up. The only problem? It's five years later. Everyone else has aged, but she hasn't. That's pretty much all it took for me to get "taken" into the story.
I have to say, Kimberly does a great job at portraying the hardships of adjusting to the way life is now compared to the way things were before.  Kyra's Mom is remarried with a new child, her boyfriend and best friend took the plans that Kyra had made with her boyfriend for college and made them their own, which is enough to make any girl's(*cough* or guy's) head explode. Not to mention the confusing feelings she's having for her ex's little brother. Yeah, things are just a tiny bit complicated. I don't want to give any spoilers, though.
The book had a nice flow to it, with little twists you don't quite expect. I'd never read anything by Kimberly Derting before, but now I'm really looking forward to the next book in this series. I would recommend this book for anyone who likes light sci-fi, young adult fiction and crazy awesome powers.
Well, see you all next time when I review If You Find Me by Emily Murdoch, in the mean time I will be learning to juggle bowling pins. If you don't hear from me, I'm likely in the hospital.
Related Posts